BP EMPLOYEES,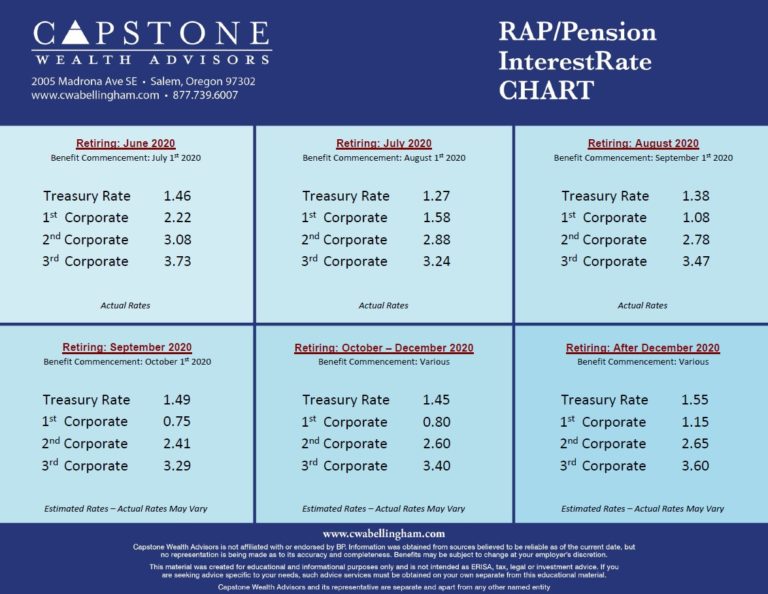 May interest rates, affecting those of you selecting September 1st as your benefit commencement date, continued to decline. This decline was mostly in line with our expectations and gradual declines in coming months are expected.  September is currently the best month to collect your pension lump sum.
The Federal Reserve expanded its bond buying program in response to economic effects of COVID-19, causing interest rates to push lower. Looking forward, we anticipate interest rates will likely remain low for the foreseeable future however we do not anticipate a significant drop from current levels.  This is good news for those of you looking towards later in the year to collect your pension as rates will likely remain favorable through that period.
With the November 2020 presidential election fast approaching, coupled with the level of polarization in our country between the two parties, we caution investors to expect moderately high volatility during this period. Ultimately only one candidate will prevail and once that outcome has been determined, we expect to see volatility diminish. Due to this, we are recommending clients may want to position themselves ahead of the election to take advantage of any downward volatility we may experience, viewing short term market dips as a buying opportunity.
Understanding when and how to take your pension lump sum can greatly impact the overall value you get from this decision. At Capstone Wealth Advisors, we have specialized for over 16 years in knowing how to navigate not only your BP retirement plans but also how to apply the decisions available to you within the larger context of you asset allocation and overall market conditions. We are committed to providing you with the best advice possible.
If you are not yet a client and would like to discuss your personal situation in more detail, please email tyler@capstonewealthadvisors.com or call our office at (877)739-6007 to schedule a complimentary consultation. There is no charge for this service to BP Employees.
Tyler E Ryan
877-739-6007
Economic forecasts set forth may not develop as predicted and there can be no guarantee that strategies promoted will be successful.
Stock investing involves risk, including loss of principal. International & Emerging Markets investing involves special risks such as currency fluctuation and political instability and may not be suitable for all investors. These risks are often heightened for investments in Emerging Markets.
Bonds are subject to market and interest rate risk if sold prior to maturity. Bond values will decline as interest rates rise and bonds are subject to availability and change in price.
Confidentiality Notice: This email transmission and its attachments, if any, are confidential and intended only for the use of particular persons and entities. They may also be work product and/or protected by the attorney-client privilege or other privileges. Delivery to someone other than the intended recipient(s) shall not be deemed to waive any privilege.
Capstone Wealth Advisors and its representatives are separate and apart from any other named entity.