BP EMPLOYEES,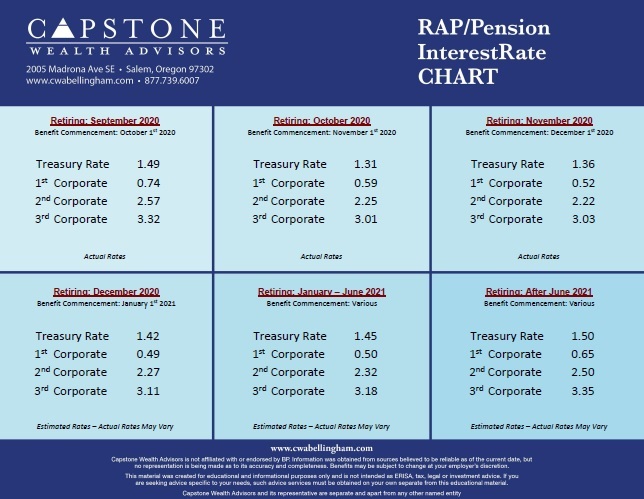 Interest rates for August, which impact BP Employees collecting their pension on December 1, were flat compared to November's rates and mostly inline with our expectations. Our outlook for interest rates in January suggests we will see another month of minimal changes in rates.
The slight change in rates means retirees should anticipate only a small change in the value of their RAP lump sum benefit between November and December.  With the upcoming Presidential Election in November, and the likelihood for significant market swings, we believe taking your pension in November is currently the best option.  We cannot stress enough the importance of having proper guidance when making these selections.  All too often BP Employees & Retirees contact us for the first time and do not fully understand how the timing and collection process of their BP RAP benefits are administered – This can cost you a significant amount of time and money if not handled correctly.
If you are one of the many BP Employees that were offered a severance and would like to understand what your options are or how you could benefit from professional advice, we are here to help.  Over the past two decades, our dedicated BP Employee Retirement team at Capstone Wealth Advisors works exclusively with BP Employees and Retirees. Knowing and understanding the intricacies of not only your pension account, but also all other retirement plan options offered through BP is our undivided specialty.
If you are not yet one of our valued clients or are considering taking a severance package and would like guidance, we would highly encourage you to talk with one of our retirement planning specialists who can help you understand what your potential retirement timeline looks like and how to strategically plan your exit. Please email tyler@capstonewealthadvisors.com or call (877)739-6007 to schedule a consultation. There is no charge for this service.
Tyler E Ryan
877-739-6007
Economic forecasts set forth may not develop as predicted and there can be no guarantee that strategies promoted will be successful.
Stock investing involves risk, including loss of principal. International & Emerging Markets investing involves special risks such as currency fluctuation and political instability and may not be suitable for all investors. These risks are often heightened for investments in Emerging Markets.
Bonds are subject to market and interest rate risk if sold prior to maturity. Bond values will decline as interest rates rise and bonds are subject to availability and change in price.
Confidentiality Notice: This email transmission and its attachments, if any, are confidential and intended only for the use of particular persons and entities. They may also be work product and/or protected by the attorney-client privilege or other privileges. Delivery to someone other than the intended recipient(s) shall not be deemed to waive any privilege.
Capstone Wealth Advisors and its representatives are separate and apart from any other named entity.